The V31AD expedition was put together by two ham friends, James, AG5TX, and Don, N5DD, and our XYLs Renee, KD5YGC, and Amy, KC5DJI. The expedition took place in the rental shack of V31MD, in Placencia, in southern Belize.
V31AD was operational from March 13 – 20, 2004. During this time we made 3,900 QSOs, with 3,000 unique stations. QSOs were made on the 80, 40, 30, 20, 17, 15, 12 and 10 meter bands, using SSB, CW and RTTY.
Belize is just below Mexico on the Caribbean coast. It offers a mix of tropical forests rich with wildlife, majestic mountains, mysterious Mayan temples, and water sports. Belize's major industries are Sugar, bananas, fish products, garment production, food processing, timber, tourism, and construction.
Placencia is at the southern tip of a long, narrow, sandy peninsula in Southern Belize. It's a laid-back beach town. All commerce and activity used to be carried out by boat, thus the village's 'main street' is just a narrow concrete footpath less than 1m (3ft) wide. The main attractions are the beaches and water sports, there's also fishing, bird and manatee watching, and excursions to jungle rivers and wildlife sanctuaries.
(click on thumbnail to expand photos)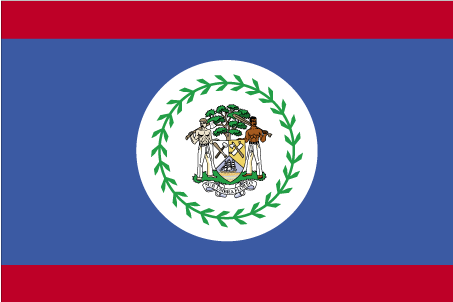 Belize Flag
Equipment:
Kenwood TS-850s
Ameritron ALS-600
Yaesu FT-100d
Dentron Clipperton L
Cushcraft A3
Butternut HF9B (located in the saltwater lagoon)
Writelog (with MMTTY plugin)